---
---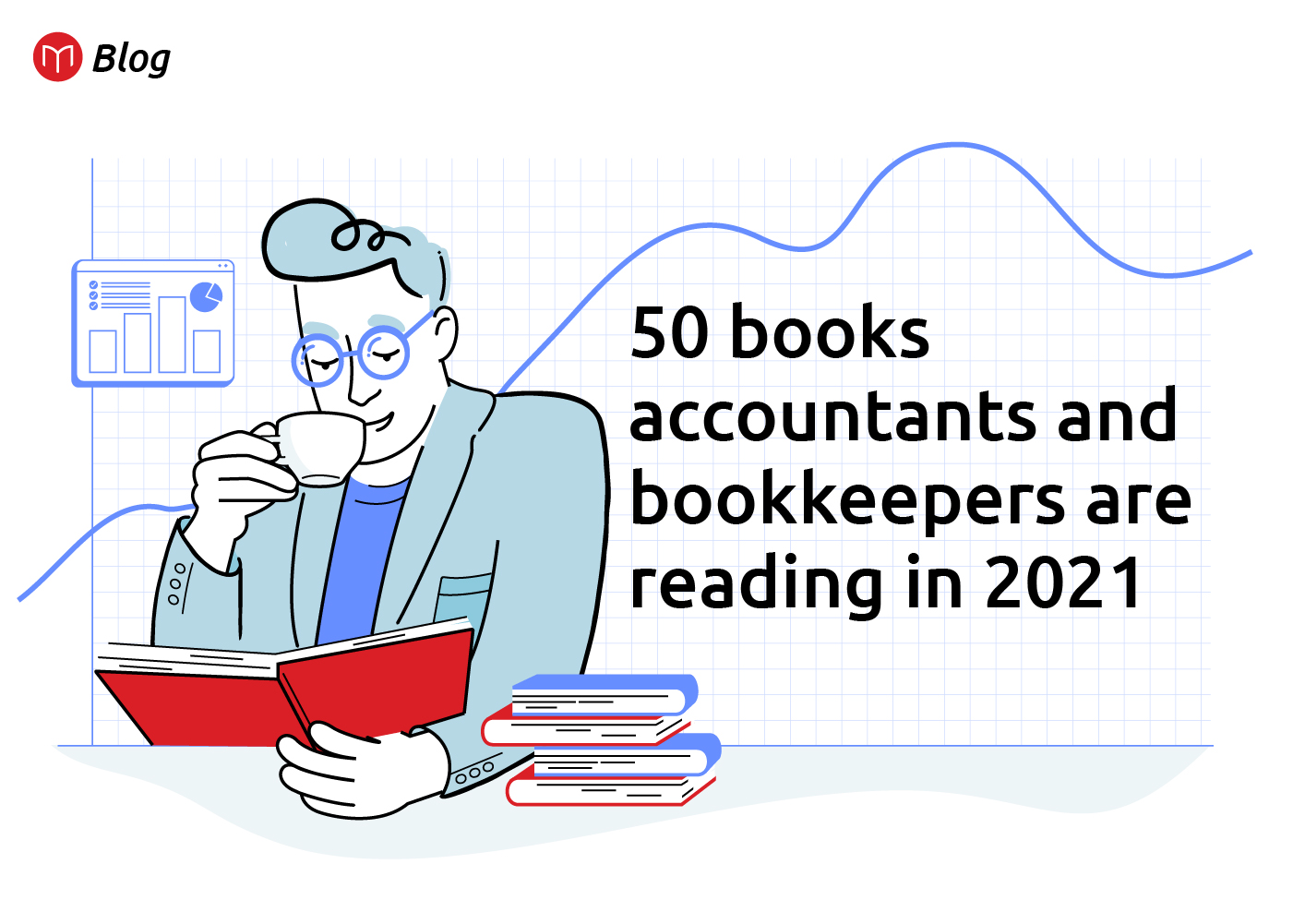 ---
---
Microkeeper Note





For me, one of the upsides of the absolute mess that was 2020, was the opportunity to connect with people in the accounting and bookkeeping industry through the Microkeeper Partner Program , BGL's Watercooler Wednesdays and the Accounting and Bookkeeping Community Chats.

I discovered a vibrant community of professionals who are constantly pushing to bring their best. This list of 50 books that people in the industry are reading (or listening to) in 2021, is brought to you by Heather Smith, and in my view is proof of that spirit of personal development.
---
50 Business Books Accountants and Bookkeepers are reading in 2021
Here's the top 50 (ish) Business Books the Accounting and Bookkeeping Community are planning to read in 2021. Wait. Stop! I'll backtrack, most of the accountants and bookkeepers I spoke with are not planning on reading them – they're planning on listening to the audio version.
A few diehards love the feel, smell and experience of reading a real book ー bless their cotton socks! But many, including myself, embrace the flexibility and freedom of the audio version, and multi–task, be it driving, exercising, or household chores. To listen to audiobooks, some use the Audible subscription service. I personally use the free apps at Overdrive and link them to available libraries – I link mine to the local city council library and the Chartered Accountants ANZ library. I also prefer digital books as I don't like clutter.
"What is this obsession people have with books? They put them in their houses like they're trophies. What do you need it for after you read it?" - Jerry Seinfeld
Who doesn't love a good book list? Everyone suggested a book as part of our weekly community chat discussions. I'd read a few, heard of a few, and learnt about a lot of new books. One that piqued my interest was Milk of Paradise: A History of Opium by Lucy Inglis. I like hearing about business operations from a different perspective. I seem to recall many suggestions from Andrew Erkins of d1g1t business who's already completed three books six days into the New Year, and Amar Latif of MAD crew wealth. You can watch our book chat below if you're interested.



After the discussion, I collated the list and invited the extended community to vote on the ones they'd like to read. Here are the books they voted on, ranked in order of preference:
The Resilience Project: Finding Happiness through Gratitude, Empathy and Mindfulness – Hugh van Cuylenburg
Measure what Matters – John Doerr
The 5 AM Club: Own Your Morning. Elevate Your Life – Robin Sharma
High Performance Habits – Brendan Buchard
Thinking, Fast and Slow – Daniel Kahneman
The ONE Thing – Gary Keller, Jay Papasan
Talking to Strangers: What We Should Know about the People We Don't Know – Malcolm Gladwell
How to Get Things Done – David Allen
How To Win Friends And Influence People – Dale Carnegie
The 80/20 Manager Ten Ways to Become a Great Leader – Richard Koch
Building a StoryBrand Clarify Your Message So Customers Will Listen – Donald Miller
4 Hour Work Week – Tim Ferriss
Never Split the Difference: Negotiating as if Your Life Depended on It – Chris Voss
The Coaching Habit Say Less, Ask More & Change the Way You Lead Forever – Michael Bungay Stanier
Emotional Agility – Susan David
Profit First: Transform Your Business from a Cash–Eating Monster to a Money–Making Machine – Mike Michalowicz
Rocket Fuel The One Essential Combination That Will Get You More of What You Want from Your Business – Gino Wickman, Mark C. Winters
Critique of Pure Reason – Immanuel Kant
Positively Geared: How to Build a Multi–million Dollar Property Portfolio from a $40K Deposit – Lloyd Edge
The Innovator's Dilemma – Clayton Christensen
Extreme Ownership – Jocko Willink
Getting to Yes – William Ury, Roger Fisher
The Barefoot Investor: The Only Money Guide You'll Ever Need – Scott Pape
The Sticking Point Solution – Jay Abraham
Milk of Paradise: A History of Opium – Lucy Inglis
Radical Candor: How to Get What You Want by Saying What You Mean – Kim Scott
Essentialism: The Disciplined Pursuit of Less – Greg McKeown
The Secrets Of Business For Young Entrepreneurs – Alex Falcon Huerta
Planning Plan B – Kylie Parker
Implementing Value Pricing: A Radical Business Model for Professional Firms – Ronald J. Baker
Predictably Irrational – Dan Ariely
Positioning for Professionals: How Professional Knowledge Firms Can Differentiate Their Way to Success – Tim Williams
The Future of the Professions: How Technology Will Transform the Work of Human Experts – Richard E. Susskind, Daniel Susskind
Accounting Practices Don't Add Up! Why They Don't and What to Do About It – Rob Nixon
Good to Great Why Some Companies Make the Leap – and Others Don't – James Charles Collins, Jim Collins
Turn Any Sale Into Lifelong Loyalty in 100 Days – Joey Coleman
Simple Numbers, Straight Talk, Big Profits! 4 Keys to Unlock Your Business Potential – Gregory Burgess Crabtree
H3 Leadership: Be Humble. Stay Hungry. Always Hustle – Brad Lomenick
HBR Guide to Making Every Meeting Matter (HBR Guide Series) by Harvard Business Review
The Invincible Company: How to Constantly Reinvent Your Organization with Inspiration From the World's Best Business Models
The Personal MBA: A World–Class Business Education in a Single Volume – Josh Kaufman
Social Media Tip
If you're absorbing a book share your learnings and insights on social media. This helps people understand what interests you, enriches your relationship with the community, and can generate a thoughtful discussion. On Twitter I shared I was listening to Shoe Dog by Phil Knight, and if you click through, you can see multiple people jumped to comment on it. Almost like my own nimble book club.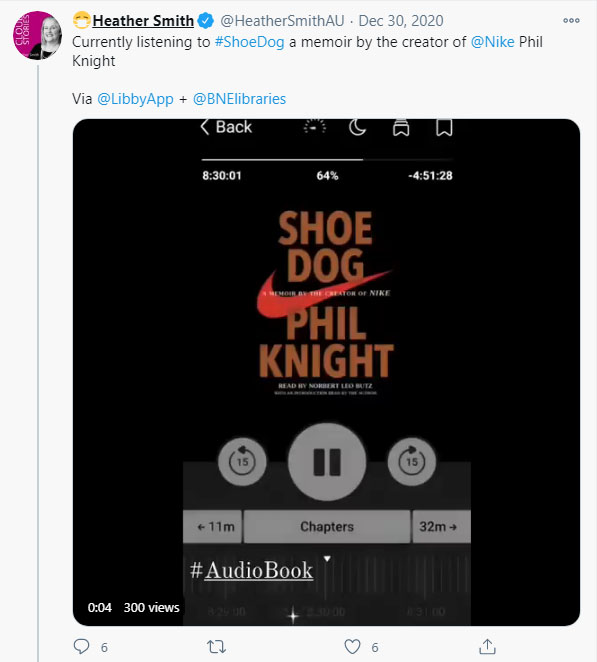 Currently listening to #ShoeDog a memoir by the creator of @Nike Phil Knight

Via @LibbyApp + @BNElibraries pic.twitter.com/5NHVBcCWOH

— 😷Heather Smith (@HeatherSmithAU) December 29, 2020

Speaking of book clubs, the logical progression from here is to have a book club discussion within the community chat. These are the books we'll be reading each month:
Februrary: Dare to Lead – Brene Brown
April: Atomic Habits – James Clear
June: The Resilience Project: Finding Happiness through Gratitude, Empathy and Mindfulness – Hugh van Cuylenburg
August: Measure what Matters – John Doerr
October: The 5 AM Club: Own Your Morning. Elevate Your Life – Robin Sharma
December: Principles – Ray Dalio
If you've been looking around for a good business book to absorb in 2021, you're sure to find something on this varied roundup for the accounting and bookkeeping community. Please share in the comments below what books you are planning to read this year.
About the Author
| | |
| --- | --- |
| | Heather Smith FCA, FICB, FCCA Hype Girl for Accounting Apps. The host of the Accounting Technology podcast Cloud Stories, publishes the Accounting Apps newsletter, author of Xero for Dummies, and runs a practice from her handbag. Obsessed with how effective automation and integration can produce timely clean data, to surface information for informed decision making. |
---