---
---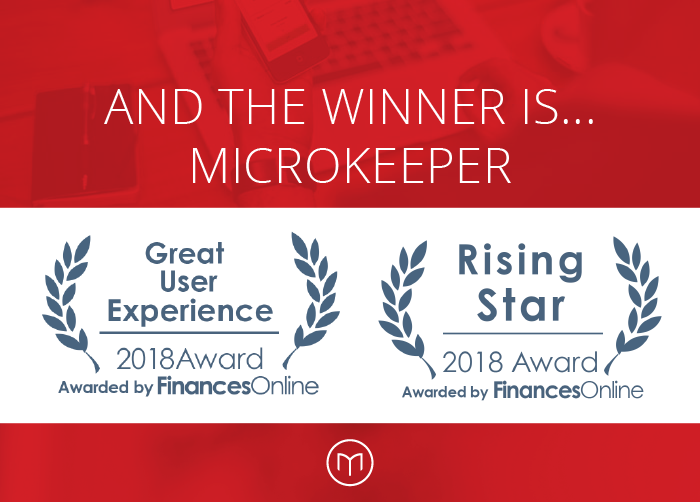 ---
---
In a recent FinancesOnline review, Microkeeper has been recognised as an efficient accounting software and one of the most popular accounting tools. To top it off, Microkeeper also received two great awards from the trusted software review platform:
Great User Experience Award
Rising Star Award
Microkeeper was conceptualized back in 2010 to help businesses of any industry to streamline their business administration, and from there, our tool has quickly evolved to become an all-in-one timesheet management and payroll software solution. Just recently, one of the leading directories for software reviews has recognised our efforts by distinguishing us with their Great User Experience and Rising Star awards.
"The software is a perfect solution for companies and organisations that are looking to graduate from manually checking and collaborating timesheets as well as tedious entering of data," FinancesOnline wrote in their review. This is one of the reasons why Microkeeper bagged FinancesOnline's Great User Experience award for top payroll software reviews. This distinction is given to software systems that offer easy-to-use well-designed tools in facilitating the work process.
Simply put, FinancesOnline described Microkeeper as an efficient and accurate payroll software for businesses that simplifies and speeds up timesheet and payroll processes. This is largely attributed to Microkeeper's seamless integration of rosters, timesheets, and payroll to allow for automation of processes from managing your team to disbursing their salary.
Microkeeper also received the 2018 Rising Star award and landed a spot in FinancesOnline's popular accounting software tools. FinancesOnline awards this recognition to software products that have garnered positive traction from clients. Microkeeper also brings convenience not only to business owners and administrators but also to their employees by allowing them to transparently monitor their time and attendance in real-time.
Microkeeper is proud to receive awards that affirm that we are right on track in providing an indispensable software solution to our clients. Make sure to check out FinancesOnline's review of Microkeeper and share on their page how our platform helped improve your company's timesheet management and payroll processes.
---