Microkeeper Biometric Timesheet Software

Microkeeper Timesheet Software allows employees to clock their worked hours using Fingerprint or NFC tag technology.
---
Download
Version 1 Released 01/10/2016
Version 2 Released 31/03/2017
Version 3 Released 14/06/2017
---
Requirements
| | |
| --- | --- |
| PC running windows 7, 8, 10 | |
| Reliable internet connection | |
| Fingerprint scanner or NFC reader with NFC tags | Pricing |
---
Setup process
If upgrading from version 1 you must uninstall version 1 before proceeding
Uninstall the following - Digital Persona RTE, Maxthon, GoToTags and Java
Connect either the fingerprint scanner and/or the NFC reader to the PC
Download the installation software using the link above
Run the installation file, clicking next at each question
Run Microkeeper, Right click > Pin to the start bar
User Settings
Username

The Username of the Business


Job


If the hours worked need to be assigned to Jobs enter the Job ID
Menu > Jobs > Jobs
Mouseover the ID column to get the Job ID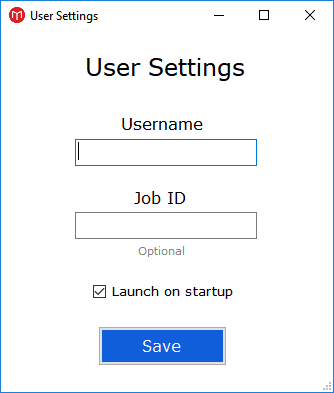 ---
Enrolling a new fingerprint
From the Menu select Enroll Employee
Scan the right index finger 4 times
To get a good scan place the finger high on the glass panel and press down firmly
The larger the surface area of skin the better the scan will be
Repeat for the left index finger as a back up
A link will be provided so we can assign this finger to an employee
---
Adding an NFC tag
Place the NFC tag on the reader
If the tag ID can't be found the ID will be added to the database
---
Assigning a fingerprint or NFC tag to an employee
Login to the Microkeeper website
You will need access to manage fingerprint which can be set in the employees profile
Menu > Payroll > NFC & Fingerprint
Use either the link from the Microkeeper Timesheets app or the temporary ID number, to identify the employee
Select the employee and click Set
---
Clocking on and off
Open the Microkeeper Timesheet software.

Place finger on scanner or place NFC tag on NFC reader
If successful the employee will be clocked on or off
If unsuccessful an error message will be displayed
Feel free to call Microkeeper if you have any issues
---
Maintenance
To keep your Fingerprint Scanner working perfectly for years to come, you'll need to perform the proper maintenance procedure.
To clean the fingerprint scanner, spray Windex onto a soft cloth and gently wipe the outside casing and the finger pad.
Do not use any corrosive cleaners like methylated spirits or turpentine as this will damage the scanner, only use Windex.
Do not spill any liquids on the Fingerprint Scanner, as any water damage will void your warranty.