Public Holiday Rules
Public Holiday payments can be added to payroll automatically based on a List of Australian Public Holidays
Navigate
Menu > Settings > Payroll Rules > Public Holiday Rules
---
List of Public Holidays
Microkeeper maintains a full list of public holidays for all states in Australia.
Review this list by visiting the List of Australian public holidays page.
Additional Public Holiday dates can be added to Microkeeper. Skip or add a date on the Public Holiday Rules page and fill in the details.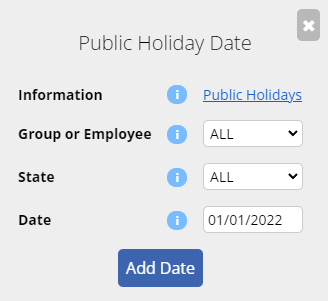 ---
Adding a public holiday payment for staff that did not work
Review the guide Leave and Public Holidays for unworked public holidays.
---
Adding payments for Public Holidays that have been worked
Before an employee can be paid for working a public holiday we need to create a Public Holiday Rule that will comply with the award for your industry.
The rules you create here will be applied to shifts worked on dates listed in Microkeepers List of Public Holidays.
Select the Group or Individual Employee the Rule and status the rule applies to.
The multiplier will need to be set to the relevant award for your industry. Eg. 2.5
You then have a choice to add or skip dates. For example; in Geelong, the Geelong Cup is celebrated as a Public Holiday instead of Melbourne Cup. Add extra date 22/10/2019 and add skip date 03/11/2019.
Any dates added or missed will need to be amended each year. Click add public holiday rule.
Example
---
Add or Skip dates for Public Holidays
Public Holiday days can be customised within the Public Holiday Rules
Navigate to Menu > Settings > Payroll Rules > Public Holiday Rules
Under the Public Holiday Dates, click Skip Date or Add Date to customize the calendar days that the system recognises as a Public Holiday.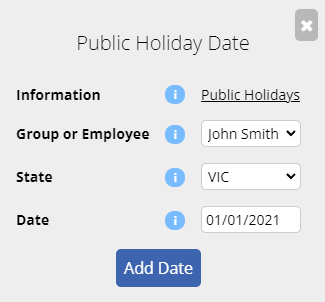 You can specify what Group, Employee or State this custom rule applies to.