Data Security At Microkeeper
Data In Transit
All data sent to and from the Microkeeper servers is done via a 256-bit SSL encrypted connection.
Data At Rest
Some values are encrypted at rest and some values are not, for example TFN are encrypted.
Microkeeper does not encrypt all fields, this is because it can hinder database performance and slow down search queries.
Data Sent To Third Parties
Microkeeper integrates to many third party software providers, these provides have access to different levels of data depending on what is required to achieve the desired outcome.
These providers do not have access by default, the accounts administration must trigger an action to these providers for the data to be forwarded.
Here is a list of third party software providers and the data they have access to:
| | | | |
| --- | --- | --- | --- |
| Software Provider | Access Level | Reason | Data Access |
| SuperChoice | High | Process Super | Name, DOB, TFN, Mobile, Super fund, Member number, Super contribution values |
| ATO | Very High | Submit Single Touch Payroll | Almost all fields |
| SMSBroadcast | Low | Send SMS | Name, Mobile |
| Apple | Low | Send Push Notifications | App to device token |
| Google Apps | Low | Send Push Notifications | App to device token |
| NAB Merchant facility | Medium | Make Credit Card Payments | Credit Card Details, Username |
| Xero | Medium | Send Invoice for Payroll | Accounts, Cost of wages, PAYG values, Super values |
Microkeeper Fingerprint Data Retention
An image of the fingerprint is not stored. The fingerprint is converted to a binary string.
Below is my fingerprint and how it looks as a binary string:
123C2A062123C2A062E123C2A062E296B2912 3C123C2A062E296B2123C2A062E296B299123C2A062E296
B292A062E296B292123C2A062E296B2996B29 123C2A062E2123C2A062E296B2996B29E2123C123C2A062
E296B292A123C2A062E296B29123C2A062E29 6123C2A062E296B29B29062E296B2962E296B2962E96B29
This string can not be converted back into a fingerprint and is only useful to the Microkeeper fingerprint interpreter.
ISO 27001:2013 compliant
Microkeeper is ISO 27001:2013 which is globally recognised as the premier information security management system (ISMS) standard.
Compliance is a requirement of SBR and thus permitted to submit STP data.
Verification of Microkeeper SBR compliance can be found on the Standard Business Reporting Product Register.
Best in Class Infrastructure
Microkeeper delivers best-in-class availability. Microkeeper use multiple redundancy technologies for our servers, networks, databases and data.
These ensure that if any component fails, Microkeeper will recover with little or no disruption to your service or loss of data.
Server Hosting Environment
Microkeeper uses different server hosting environments for different parts of the system stack.
All hosts are in Australia and highly critique by Microkeeper Engineering team.
All hosts have:
Best in class infrastructure
High uptime
High security standards
Firewalls
Firewall upkeep and maintenance is the responsibility is our server hosts.
Please visit our hosts websites for more information about their data security policies.
Anti-Virus Policy
AV is not required for the hosting environment this is because it's a locked down environments were new software vendors are rarely installed.
Inhouse all Support and Software Developer run Windows Defended, updates are fully automated.
Software Update Policy
Third party vendors are updated as new releases, where possible automated updates are implemented.
Where automated updates are not possible, manual installation is conducted.
Manual updates typically take between a few days to a couple of weeks depend on risk profile and difficulty of implementation.
Data Retention Policy
Microkeeper has a "No Print Policy" thus no customer data is ever printed.
Data is kept for a minimum of 10 years in alignment with Australia Law.
If an account parts way, Microkeeper retains data.
Data is automatically deleted once the data is 10 years old via built in scripts.
Backup Policy
An automated backup is taken during quiet times on a daily basis.
7 backups are kept for 7 days, Example: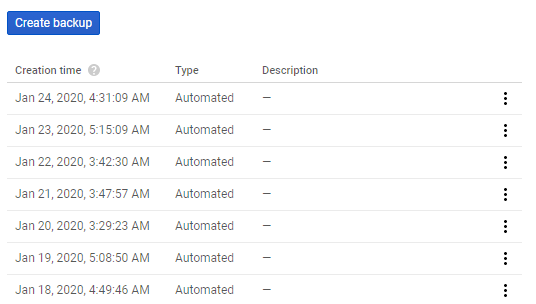 An Annual backup is taken which is kept indefinitely.
Password Policy
Microkeeper requires the following for a strong password:
Must be 8 or more characters long
Must contain upper and lower case characters
Must contain at least 1 number
Must contain at least 1 special characters
Account lockout is for 5 minutes after 5 attempts at a password.
After a maximum of 50 attempts the account is permanently locked and can be unlock by contact admin.
When storing passwords in the database, they are hashed using sha256 and proprietary double salting.
Note
The details in this document are not legally binding for a more detailed explanation please review the Microkeeper Privacy Policy and Terms of user.
Last Updated
11/02/2020