Reports
You have the ability to review Reports based off of your Payroll Data, this guide will show you which reports are available in Microkeeper.
Navigate
Menu > Payroll > Reports
---
Selecting Time Period
Before selecting a report you may want to select a time period, if not specified the system automatically will select the most recent Payment date to report on.
On the left there is the Period selection, which allows you to refine aspects such as



It also displays which specific Runs you have within your specified filter.


NOTE: When selecting a time period, your Payruns are assigned by Payment Date
---
Report Formats
There are multiple report formats within Microkeeper:
HTML: Displays the report quickly in new tab of your internet browser

CSV: Saves a CSV file to a specified location on your computer. (This file is a compatible with spreadsheet software such as Excel or Google Sheets.)

Print: Allows you to print a physical copy of the report
---
Types of Reports
Payroll Summary
This report is each employee, and their total Cost To Business, Employer Super, Super, Additional Super, Total Expenses, Gross Taxable, Taxes, Net and Hours total for the period selected.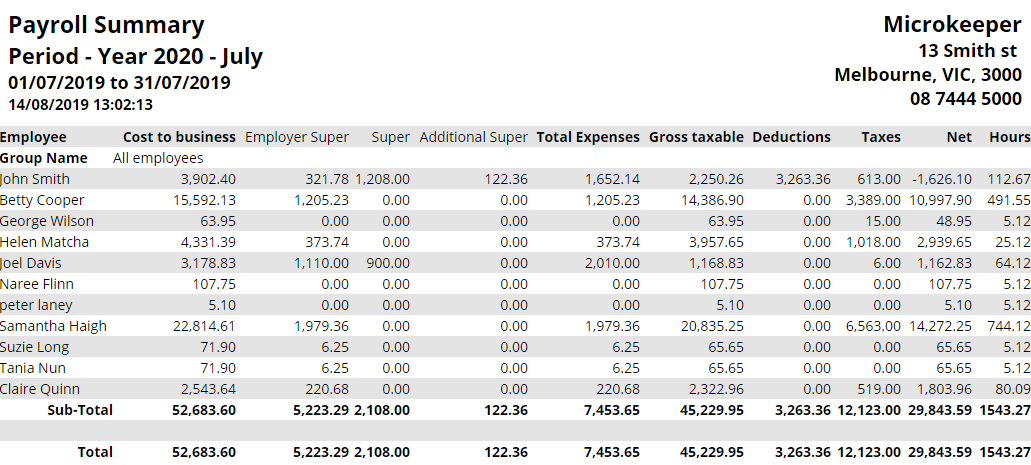 ---
Payroll Breakdown
This report contains, a more complex breakdown of the Payroll, listed by employee. It contains a breakdown of all the below Costs and Hours.
Basic Rate (Including Breakdown of these hours by jobs)
Super Exclusive
Super Exclusive Additional
Leave
Cost to business
Salary Sac
Super
Super Employer Additional
Expenses
Gross taxable
Deductions
Taxes
Net
Total Hours
Annual Leave
Sick Leave
RDO/TIL
Long Service Leave

---
Payroll Invoice
A customizable report used to display an invoice of payroll data.
This can be broken down by Title, Date, Location, Role, Job or Class of the payslip items in the Payrun.
Payroll Invoice for generating Payroll Journals
The Payroll Invoice report can also be used to allocate payroll data to General Ledger accounts.
This is done by:
1. Click the Accounts button
2. Add new Accounts
3. Select Account for each Cost to Business using drop down box.
5. Enter a description
---
Payroll Employee by Run
Displays the Gross Taxable, Employer Super, Salary Sacrifice, Employee Super, Tax, Net Basic Hours, Overtime Hours, and total hours, separated by each pay run over the period selected.

---
Payroll Summary by Run
Displays the total Gross Taxable Employer Super, Salary Sacrifice, Employee Super, Deductions, Tax and Net, separated by Run.

---
Payslips

Displays all individual payslips for the Selected Period.
---
Deduction Summary
This provides a summary of all deductions within the selected period, sorted by Title. Eg Child Support.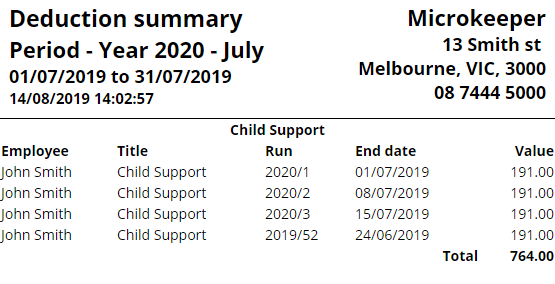 ---
Employee Super Advice
The total of Employee Super for a period, by employee. (In the example below only one employee is selected)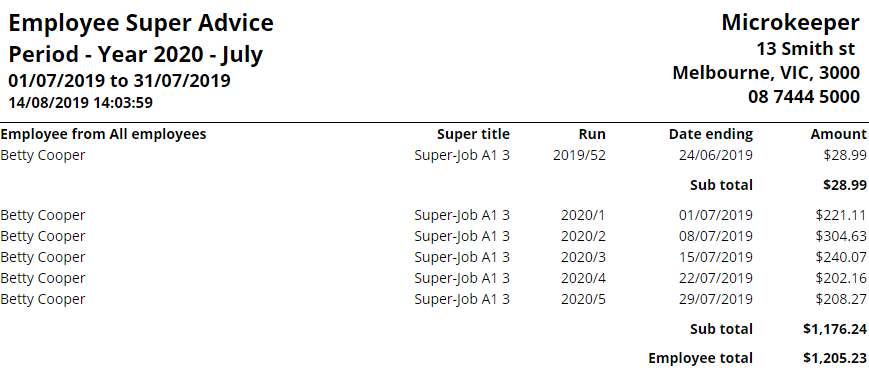 ---
Super Via Fund
Lists all employees and the amount of super paid within the selected period, by Fund.
This page is also used to Pay Super when HTML is the Format selected, please visit the Processing Super Guide, for more information.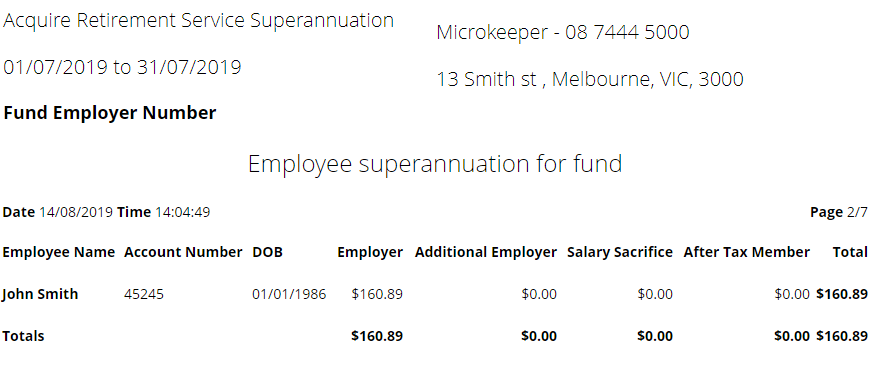 ---
Payroll Tax
This report provides an estimation of the Payroll Tax over a monthly period.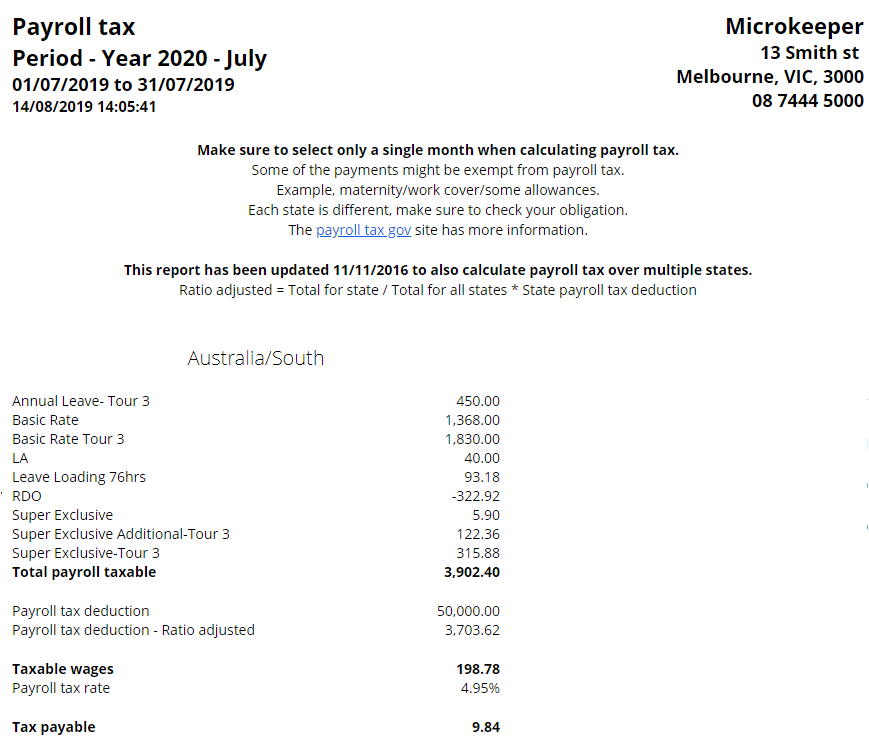 ---
Change of Pay Rate
A list of your employee's and the change in their Pay-Rate from within the current Pay-Runs over the selected period.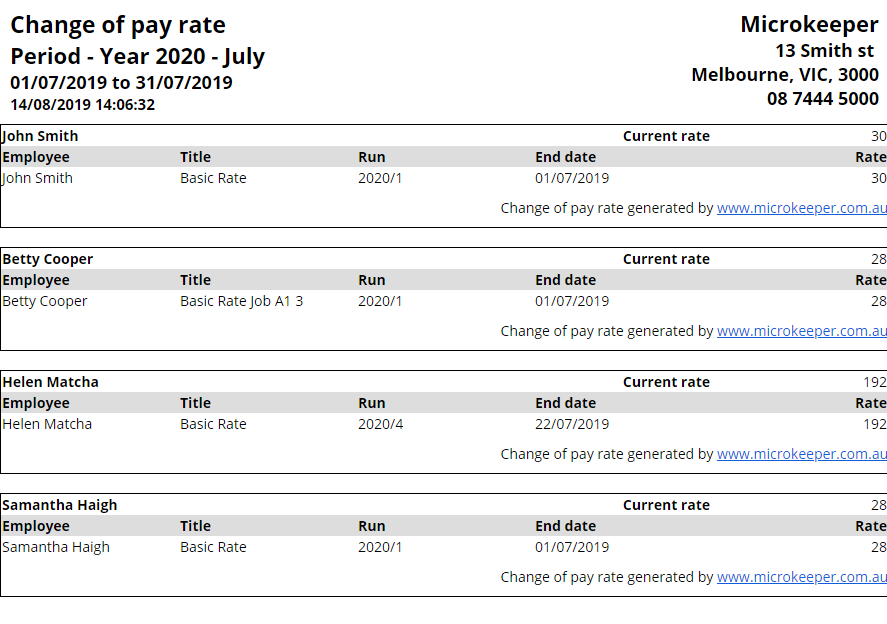 Entitlement Breakdown
A breakdown of entitlements accrued by employees over the selected period. Including how many hours were accrued each payrun.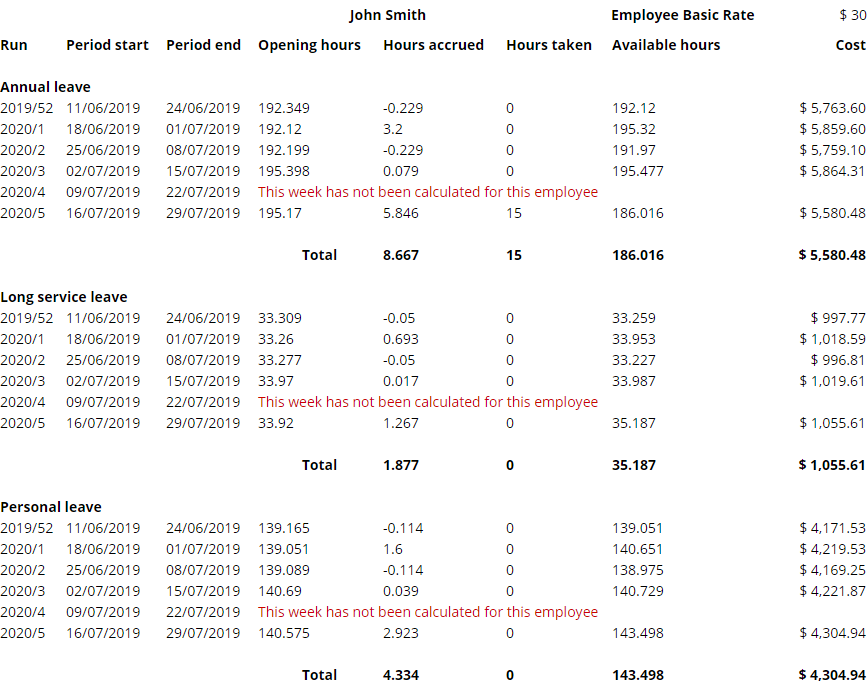 ---
Entitlement Summary
A summary of your employee's entitlements by employee, then Opening Hours, how much was accrued during the selected period, the hours taken, the available hours and the Value.

---
Job Reports
All Job reports are available by viewing the Job and Cost Centre Guide
---
Timesheet Export
You can export the Timesheet data as a CSV file