Reviewing Leave Requests
This guide will demonstrate how to review leave requests including accepting, declining and leaving a comment as well as the different levels of management.
Navigation
Menu > HR > Leave Review
---
Before reading this guide
We recommend reviewing the Requesting leave guide first to be aware of the process to be undertaken by the employees
---
Reviewing Leave
Once an employee has made a Leave Request, the manager of that employee has the ability to Approve or Decline the leave.
A Leave Request will be colour blue if an action is required, or gray if the Leave Request has already been reviewed.

Click Review to see all the review options.
It is not critical that the hours the employee has requested to be accurate, what's important is to ensure the date and time range is accurate.
When payroll is processed the hours will be calculated using the employees Roster and Timesheet data, not the hours requested by the employee.
Review the Leave and Public Holidays guide to learn how the hours are calculated.
Somethings to consider when approving leave are:
Does the employee have the required leave balance
Are other staff on leave at the same time as this employee
Is the date range during a "no leave allowed" period
Is the leave in alignment with the employees award
Has the correct documentation been supplied, eg a Dr Cert
There are 3 stacks of information to help review a Leave Request
Leave form values and Accrued balances

Overlapping Leave Requests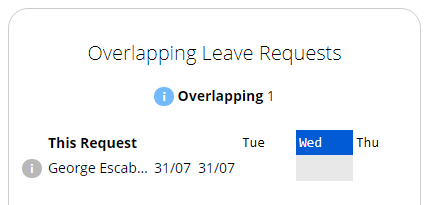 Past Paid Leave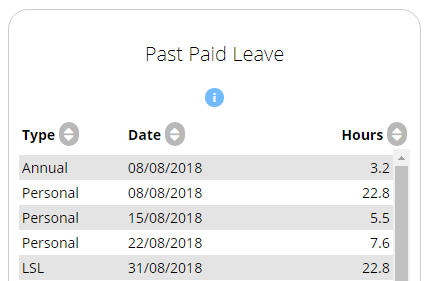 Once the request has been reviewed there are 4 actions:
Leave a note
Edit the Leave Request
Decline
Accepted
As depicted by these 4 buttons:

An employee could also remove a Leave Request which should go through the same approval process.
---
Leave Requests can be in 6 different statuses
| | | |
| --- | --- | --- |
| ID | Status title | Description |
| 1 | Request pending | The employee has submitted a request for leave form via the employee console |
| 2 | Remove request pending | If a request has been accepted, the employee has to request to have it removed, this option is only available to the leave request |
| 3 | Request accepted | Someone with access has accepted the leave request and it will be sent to payroll |
| 4 | Request declined | Someone with access has declined the request |
| 5 | Payrun processed | The request has been processed through payroll, no further action required (This one is no longer in use with Leave 2.0) |
| 6 | Employee removed request | The employee has removed the request, the employee might have made a mistake thus had to remove the request and fill a new form before a request is accepted the employee can instantly remove the request. |
---


Note: The system is designed to complement your current process, businesses will use this feature in different ways depending on how their management is layered and what their current processes are.