Shift Bidding
AutoRoster and Shift Bidding are two ways to assign staff to Open shifts.
With Shift Bidding you offer staff the option to show interest in working the selected shifts by "bidding", while AutoRoster won't need the staff interaction, instead it automatically takes into consideration who is available and eligible to work and suggest a roster allocation based on this information.
Navigate
Menu > Rosters > Roster Calendar
---
Create an Open Shift
To open a shift for bidding, the shift must be set as Open under the Allocation area.

The Convert tool can be used to quickly convert Rostered Shifts to a specific status of Allocation.
Auction > Convert
---
Create an Auction
Open shifts can be auctioned to staff for shift bidding or they can be automatically assigned to eligible staff with AutoRoster.

Auctions can be created using the Auction Tool.
Auction > Create
Select the Date Range of Rostered Shifts to Auction.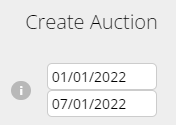 Select an Automated auction for AutoRoster or a Staff Bidding auction for Shift Bidding.
Automated - All staff that are eligible to bid on the auction are automatically available to be assign to shifts.
Staff Bidding - Staff can bid on shifts they want to work, review process takes place by management afterward.

Choose the notification options to notify staff of a roster auction if Staff Bidding has been selected.

Select the option to create the auction live now, or make the auction live at a specified date.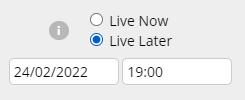 Simulate the Auction with your selected settings and confirm the Auction details.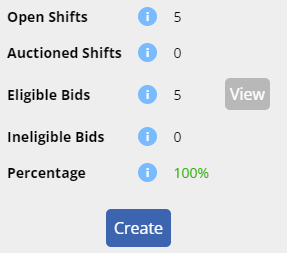 Staff can be selected or deselected for the Auction within the Eligible Bids section.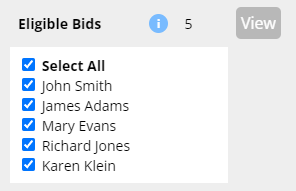 Ineligible Bids can show the staff members who are locked from participating in the Auction.
Roster Clash: The staff member has already been rostered during the Auction period
Basic Hours: Auctioned hours exceed staff member's setup Basic Hours on Employee Profile
Unavailable: The staff member's availability schedule clashes with the Auction period
Unskilled: The staff member has not completed the necessary skill for this Auction
Leave Clash: The staff member has requested leave during the Auction period
Confirm the Auction by clicking Create.
---


Reviewing an Auction
The progress of an Auction can be reviewed at anytime.
Open the Auction Review Tool to review the progress of an Auction.
Auction > Review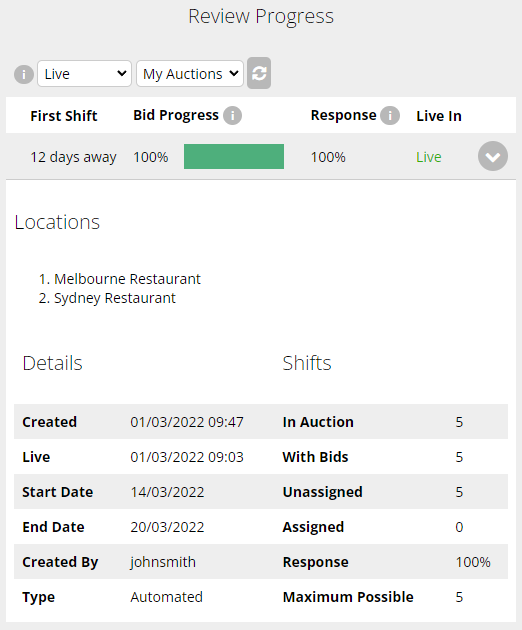 ---


Assign Staff to an Auction
Staff who have bid on an Auction can be selected to be assigned to an Auctioned Shift.
Open the Auction Assign Tool to assign staff to Auctioned Shifts.
Auction > Assign
Staff can be assigned to Auction Shifts manually or by using the Auto Roster Suggestion feature.
Automatic Roster Suggestion
Microkeeper can automatically build a roster suggestion based on preset parameters. The selected parameters will impact the staff assigned to the open shifts.
Bidding Pool Priority
Even Distribution: Even distribution of available hours to staff will be prioritised
First In Best Dressed: Earliest bids from staff will be prioritised
Lowest Cost: Staff with the lowest hourly rate will be prioritised
Highest Cost: Staff with the highest hourly rate will be prioritised
Most Experienced: Staff with longest Employment Duration will be prioritised
Least Experienced: Staff with shortest Employment Duration will be prioritised
Protected Hours
Selected hours before and after a staff members shift can be protected from being auto assigned
Approved Weekly Overtime
Select the number of acceptable Overtime hours in a week for staff members.
Manual Staff Assign
Click the switch staff button to select a specific staff member to work the selected shift.

Once you have confirmed the assignment for your shifts, click Assign Staff to finish the assignment process.