Timesheet vs roster
This guide will run through all the functionality of the timesheet vs roster page.
---
Navigate
Menu > Payroll > Timesheet
---
Breakdown
This page is designed so the timesheet can be quickly compared to the roster and amendments quickly made.
The data is listed employee by employee.
The page does this by overlapping the roster and the timesheet.
Making differences easily identified.
Basic Example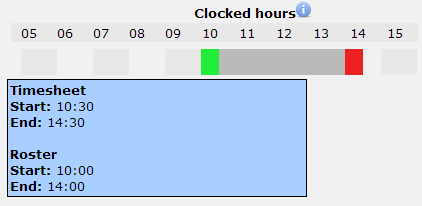 ---
Legend
Roster is displayed in green
Timesheet is displayed in red
Overlap of both roster and timesheet is displayed in gray
Legend
Another way to look at the legend is red will cost the business more and green will cost the business less, if wages are calculated from timesheet data.
---
Identifying discrepancies
The roster is rarely going to match the timesheet perfectly.
Every business will find different trends from the information on this page.
Perfectly clocked hours

The above illustration is an example of an employee who has clocked his work hours exactly the same as his roster.
Under all circumstances this is what you should be aiming for from every employee and from realistic planing.
Clocking on late

The above example is of an employee who clocked on late every morning.
You can use this information to identify possible issues.
Working back late

The employee in the above example worked back late on one of their shifts.
---
Missed shift
Employees will miss shifts and other employees will fill in for them.
Missed shift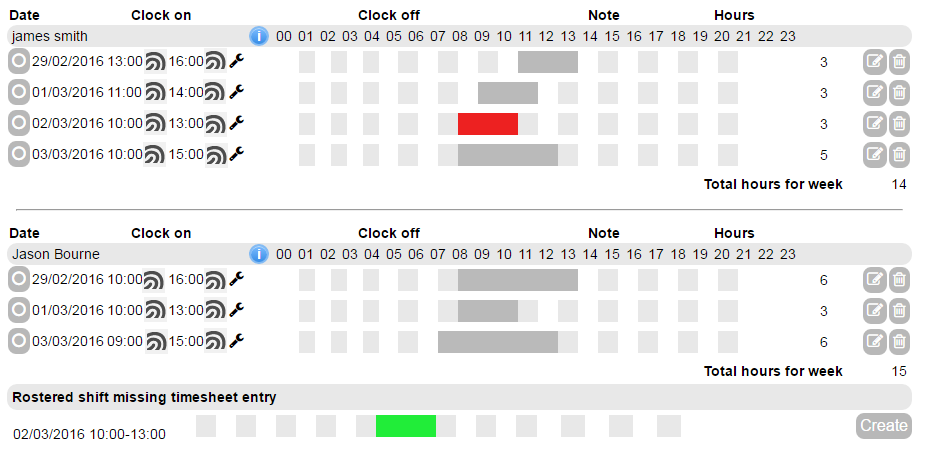 The above example illustrates that Jason Bourne missed his shift on the 2nd (Green roster).
He may have forgotten to clock his hours.
If this was the case we could click the Create button and add his shift.
However, in this case, he called in sick and James Smith filled in for him.
We can easily spot the shift that James worked that he was not rostered on for (Red shift entry).
---
Reason behind discrepancies
There are many reasons why the hours clocked don't match the hours rostered.
Including
Employee had to work back late
Allocated roster is not enough time to complete all work
Employee had to cover another employees shift
Employee was running late to work
Employee forgot to clock on/off
Employee had a sick day and shift was not clocked at all
Many more
---
Editing and validation
The process for editing shifts and validation of shift amendments is the same as the timesheet page.
Review the timesheet guide for more information.