Break rules
Break rules are designed to automate the deduction of breaks from the payroll process
---
Navigate
Menu > Settings > Payroll Rules > Break Rules
---
Why create Break rules?
Break rules are used to automate the calculation required when deducting breaks from an employees shift.
For example employees at ABC Engineering are entitled to:
A 30 min break after 3 hours on shifts longer than 5 hours
An additional 30 min break after 6 hours on shifts longer than 8 hours
NOTE:
The breaks stack on top of one another
You can make employee select their own break (not recommended)
Difference groups can be on different awards
For a 38 hour work week create 24 min breaks Why? 38/5=7.6 hrs per day, Shift from 9am to 5pm = 8 hrs, 8-7.6=0.4 hrs break 60*0.4=24 min
---
Creating a Break rule
Rules can be created to suit many circumstances.
Below is an example of how you would fill this form for the above example.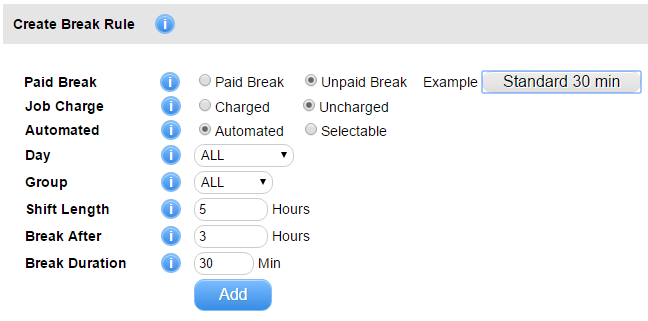 Use the i for more information on a field.
These rules are automated at the time of payroll.